Regular price
$449.99 USD
Regular price
Sale price
$449.99 USD
Unit price
per
Sale
Sold out
Share


---
Overview:
Handheld GPS Sporting Dog Tracking System for U.S. and Canada:
Track up to 20 dogs with the 2.6" color display; pair with T 9 dog devices for a range of up to 5 miles (8 km); uses 900 MHz FHSS, approved for operation in Canada and the U.S.
2.5-second update rate provides faster location tracking when dogs are on the run
High-sensitivity GPS and GLONASS satellite reception has the ability to track in more challenging environments than GPS alone
Preloaded TOPO mapping for the U.S. and southern Canada and a free 1-year BirdsEye Satellite Imagery subscription for better location-awareness
Hunt Metrics dog data analyzes dog's speed, distance traveled, and time afield so you can review and train more effectively
Follow Your Dog's Every Move:
Using our T 9 collar device (sold separately or as a bundle) to transmit each dog's location as often as every 2.5 seconds, Astro 900 is quick to pinpoint the track they're following — even when they're on the run. On the Astro device's bright, crisp display, you can see your dog's current location and a trail of where he's been. You also can switch over to the Dog Track page to view a compass pointing to your dog's location. For help in keeping the big picture in sight when tracking multiple dogs, it's easy to auto zoom the map page, so all dogs can be seen on the display at any time. Dogs that are too far away to fit on the map's current zoom scale can be notated on the display's margin in the direction of the dog's location. To reduce visual clutter on the map, you can toggle between "show all," "show some" and "show none" — selecting the duration that each dog's track is viewable on the display. You can also share a dog's track code so another person can view your dog's location on their unit's map, along with the dog tracking compass. Further, by sharing a dog's control code, you can allow another person to configure and control your dog's on-collar device.
Count Your Coveys:
After you've tracked down your quarry, mark the exact spot with the Astro device's Covey Counter™, a special waypoint that shows the exact location, time of day and elevation where you found your prey as well as the number of birds you flushed and took from that location. Astro lets you save other special waypoints, such as "Truck" and "Lodge," so you can easily find your way back to these locations at the end of the hunt. Astro also offers special waypoint icons to represent food plots, tree stands and other hunting-related points.
Make Every Outing Count:
Plan for a more productive hunting trip with BaseCamp™, software that lets you view and organize maps, waypoints, routes, and tracks. BaseCamp displays topographic map data in 2-D or 3-D on your computer screen, including contour lines and elevation profiles. It also can transfer an unlimited amount of satellite images to your device when paired with your Astro device's free 1-year BirdsEye Satellite Imagery subscription.
Share Wirelessly:
With an expanded ecosystem of wireless connectivity options, Astro 900 can support unit-to-unit data transfer with a variety of compatible Garmin devices. For example, Garmin DriveTrack™ can receive and display dog positions on its moving map — with topographic or satellite image views — showing navigation cues to your dog's current location. Likewise, a compatible fēnix® GPS watch can receive dog status updates and alerts for viewing at a glance on your wrist. Also, while you're in the field, Astro 900 lets you link and share wirelessly with your buddies' compatible devices, such as the Oregon® handheld, Montana® handheld, GPSMAP® 64 chartplotter or other ANT+® connectivity-enabled devices, to help coordinate hunt logistics on the go.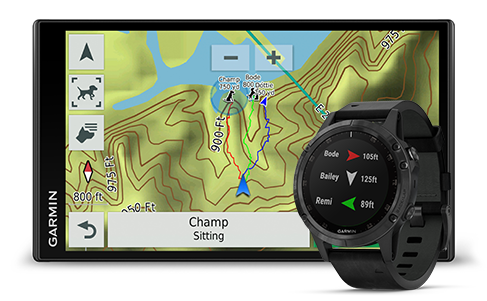 Turn Your Computer Into a BaseStation for Tracking Dogs
Tough, Water-resistant, Long-lasting:
Like all Garmin outdoor products, Astro 900 is designed to be effective, easy to use, reliable, and rugged enough to withstand all the blows, bumps, and sloppy conditions of training and hunting. The handheld unit is water-resistant to IPX7, and it can be powered with standard AA batteries — or it's optionally available with a long-lasting NiMH battery pack that's rechargeable in the unit. What's more, if you ever drop or misplace your Astro 900 in the field, the high-visibility orange case makes it easier to track down.

Specifications:
BRAND NAME:

 

GSRMIN Astro®
PHYSICAL DIMENSIONS:

 

2.4" x 6.3" x 1.4"(6.1x16.0x3.6cm)
DISPLAY SIZE:

 

1.43" x 2.15" (3.6 x 5.5 cm); 2.6" diag (6.6 cm)
DISPLAY RESOLUTION:

 

160 x 240 pixels
DISPLAY TYPE:

 

transflective, 65-K color TFT
WEIGHT:

 

9.2 oz (260.1 g) with batteries
BATTERY TYPE:

 

Optional NiMH pack or 2 standard AA (not included)
BATTERY LIFE:

 

up to 20 hours (Astro 430)
WATER RATING:

 

IPX7
MEMORY/HISTORY:

 

4 GB
Maps & Memory:
PRELOADED MAPS yes (TOPO U.S. and Canada)
ABILITY TO ADD MAPS Yes
BASEMAP Yes
AUTOMATIC ROUTING (TURN BY TURN ROUTING ON ROADS) FOR OUTDOOR ACTIVITIES Yes (with optional mapping for detailed roads)
EXTERNAL MEMORY STORAGE microSD™ card (not included)
WAYPOINTS/FAVORITES/LOCATIONS 2000
TRACK LOG 10,000 points, 200 saved tracks
ROUTES 200
Sensors:
BAROMETRIC ALTIMETER Yes
COMPASS Yes (tilt-compensated 3-axis)
Outdoor Recreation:
AREA CALCULATION Yes
HUNT/FISH CALENDAR Yes
SUN AND MOON INFORMATION Yes
GEOCACHING-FRIENDLY Yes (Paperless)
CUSTOM MAPS COMPATIBLE Yes
Additional:
Range (line of sight): T 9: 5 miles
Frequency band: 900 MHz FHSS
Handhelds vibration mode: yes
Tracks up to 20 dogs simultaneously
In The Box:
Astro 900 handheld
T 9 dog device with a rechargeable lithium-ion battery
1 inch (2.5 cm) orange collar strap
4.2 inch (10.8 cm) antenna for Astro 900
14.2 inch (36 cm) antenna for T 9
Belt clip
AC adapter
Vehicle power cable
Charging cable for T 9
USB cable
Manual
View full details