Regular price
$3,549.99 USD
Regular price
Sale price
$3,549.99 USD
Unit price
per
Sale
Sold out
Share


FISH WITH FORCE
Get on fish faster, and stay on the water with the most powerful, most efficient trolling motor available — and it's quiet, too.
Powerful. Efficient. Quiet.

HIGH-POWERED:
Force trolling motor has the power to move you from spot to spot more quickly and stand up better to winds and currents — and it's still whispering quietly.
REMARKABLE EFFICIENCY:
The high-efficiency brushless motor operates at either 36 V or 24 V. When running at 24 V, it delivers comparable thrust to our competitors' 36-V motors.
QUIET ABOVE AND BELOW THE WATER:
The ultra quiet motor doesn't scare fish and is nearly undetectable to sonar, so it won't fuzz up your sonar screens with static.
Gain total control.

WIRELESS FOOT PEDAL:
Get instant responsiveness in a convenient pedal that feels and steers just like a cable-steered pedal. It operates wirelessly using AA batteries, but it can still be hardwire installed.
WATER-RESISTANT, FLOATING REMOTE:
The included handheld remote control with a sunlight-readable display controls the trolling motor and features point-and-go gesture steering. User-programmable keys can be used to control your chart plotter.
Fishing will never be the same.

ROBUST AND EASY TO USE:
The Force trolling motor is rugged and durable, easy to deploy, and easy to retract and stow with dual gas springs. It's backed with a 3-year warranty and a limited lifetime warranty on the shaft.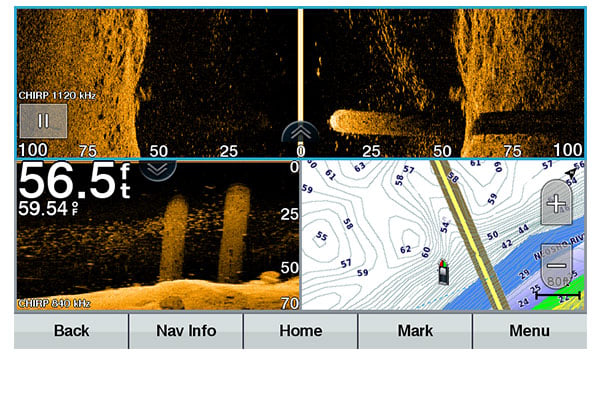 WIRELESS CHARTPLOTTER INTEGRATION:
Wirelessly connect Force to your Garmin chartplotter, so you can create routes to your favorite waypoints and follow tracks while you fish.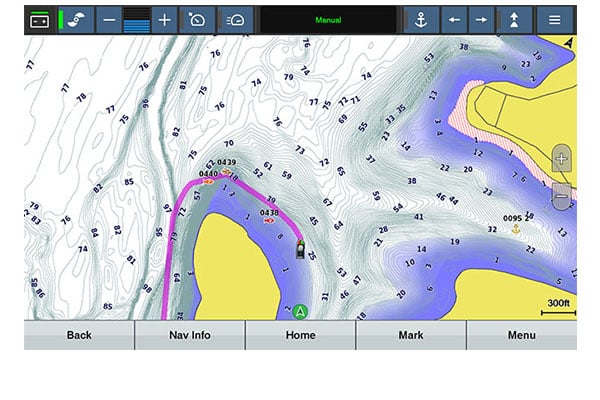 Specification
Force® 50" Trolling Motor:
Motor:
Shaft length 50"
For use in freshwater; warranty also covers saltwater/brackish water use
Mounting location bow
Mount style scissor-style mount
Max thrust 100 lbs Per ISO 13342 using high-efficiency propeller at 36V; 80lbs per ISO 13342 using high-efficiency propeller at 24 Vdc
Voltage 24 V or 36 V
Electric steering yes
Lift-assist dual gas springs
Built-in heading sensor yes
Built-in GPS yes (high-sensitivity GPS)
Warranty 3-year, limited lifetime on shaft
Water rating (components above water) IPX7
Variable speed control yes (20 steps)
Sonar:
Frequencies supported CHIRP sonar: High-wide CHIRP (150-240 kHz)
ClearVu: Ultra-high-definition 800 kHz
SideVu: Ultra-high-definition 1200 kHz and 455 kHz
Partial frequencies supported CHIRP Sonar: High-wide CHIRP (150-240 kHz)
ClearVü: 800 kHz
SideVü: 455 kHz
Transmit power 350 W
Maximum depth CHIRP sonar: 800'
ClearVü: 200'
Ultra-high-definition SideVü: 125' to each side; 250 total at a max depth of 30'
455 kHz SideVü: 500' to each side; 1000' total
Depth/speed/temperature depth and temperature
Number of pins 12-pin (orange connector)
AutoPilot Features:
Route following yes
Anchor lock yes
Heading hold yes
Cruise control yes
Gesture features yes (manual+, heading hold+, jog+)
Force® 57" Trolling Motor:
Motor:
Shaft length 57"

For use in freshwater; warranty also covers saltwater/brackish water use

Mounting location bow

Mount style scissor style mount

Max thrust 100 lbs Per ISO 13342 using high efficiency propeller at 36V; 80lbs per ISO 13342 using high efficiency propeller at 24 Vdc

Voltage 24 V or 36 V

Electric steering yes

Lift-assist dual gas springs

Built-in heading sensor yes

Built-in GPS yes (high-sensitivity GPS)

Warranty 3-year, limited lifetime on shaft

Water rating (components above water) IPX7

Variable speed control yes (20 steps)
Sonar:
Frequencies supported CHIRP sonar: High-wide CHIRP (150-240 kHz)

ClearVu: Ultra-high definition 800 kHz

SideVu: Ultra-high definition 1200 kHz and 455 kHz

Partial frequencies supported CHIRP Sonar: High-wide CHIRP (150-240 kHz)

ClearVü: 800 kHz

SideVü: 455 kHz

Transmit power 350 W

Maximum depth CHIRP sonar: 800'

ClearVü: 200'

Ultra-high definition SideVü: 125' to each side; 250 total at a max depth of 30'

455 kHz SideVü: 500' to each side; 1000' total

Depth/speed/temperature depth and temperature

Number of pins 12-pin (orange connector)
AutoPilot Features:
Route following yes

Anchor lock yes

Heading hold yes

Cruise control yes

Gesture features yes (manual+, heading hold+, jog+)
In The Box
Force® 50" Trolling Motor:
Trolling Motor
Built-in GT54UHD-TM transducer
Foot Pedal
Remote
High Efficiency Propeller
Stabilizer
Assembly and Mounting Hardware
Force® 57" Trolling Motor:
Trolling Motor
Built-in GT54UHD-TM transducer
Foot Pedal
Remote
High Efficiency Propeller
Stabilizer
Assembly and Mounting Hardware
View full details