Regular price
$649.99 USD
Regular price
Sale price
$649.99 USD
Unit price
per
Sale
Sold out
Share


---
Overview:
HARNESS THE POWER OF THE SUN
Featuring a Power Glass™ solar charging lens and customizable power manager modes, this smartwatch can stay on and performance-ready for weeks.

QUALITY BY DESIGN:
The rugged yet sophisticated design features a large 1.3" display. It is tested to U.S. military standards for thermal, shock, and water resistance.
PREMIUM MATERIALS:
Fit the look to your lifestyle with your choice of titanium, stainless steel or DLC coated bezels.
Push performance to a whole new level.

SPORTS APPS: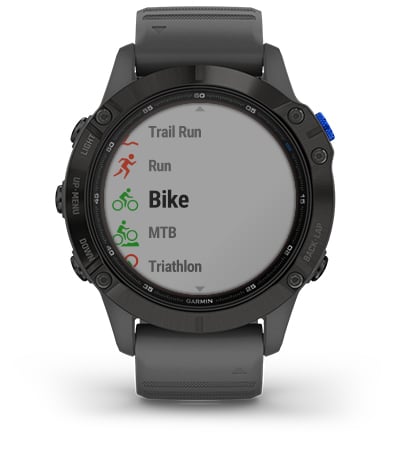 Use preloaded activity profiles for trail and track running, swimming, running, biking, hiking, rowing, skiing, golfing, surfing, indoor climbing, and more. 
BACKCOUNTRY SKI:
Stay informed when you're in the snow. This preloaded profile can distinguish between skiing and climbing. It automatically shows metrics specific to either ascent or descent.
XC SKI DYNAMICS: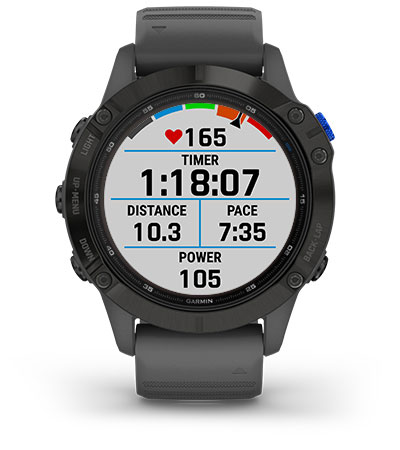 When paired with the HRM-Pro™ chest strap (sold separately), the ski power metric helps measure the actual exercise load of cross-country workouts.
MTB DYNAMICS: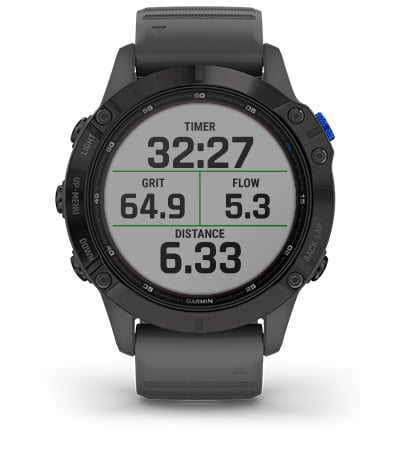 Track the details of every ride with mountain biking metrics plus specialized Grit™ and Flow™ measurements that rate trail difficulty and how smoothly you descend, giving you a score to beat next time.
SURF-READY FEATURES: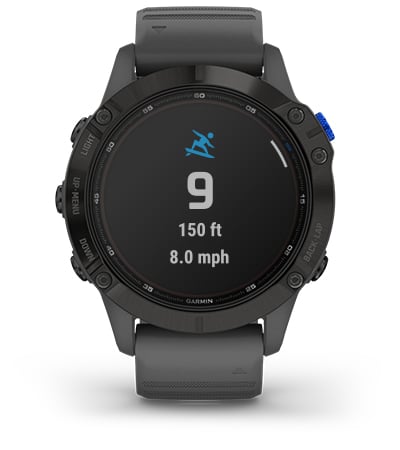 Get ready to catch some waves. fēnix 6 Pro Solar works with Surfline Sessions™, which creates a video of every wave you ride in front of a Surfline camera, so you can watch them later and see how you did.
ANIMATED WORKOUTS: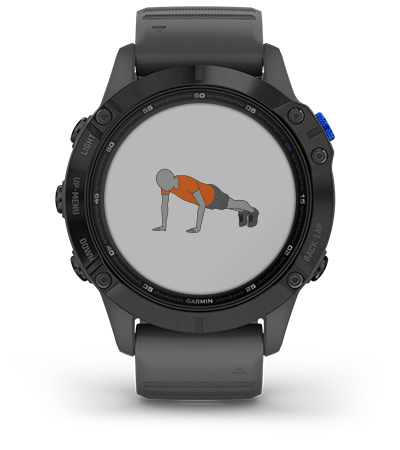 This watch features easy-to-follow, animated cardio, strength, yoga, and Pilates workouts you can view on the watch screen. Choose from preloaded animated workouts, or download more from our Garmin Connect™ online community.
WRIST-BASED HEART RATE: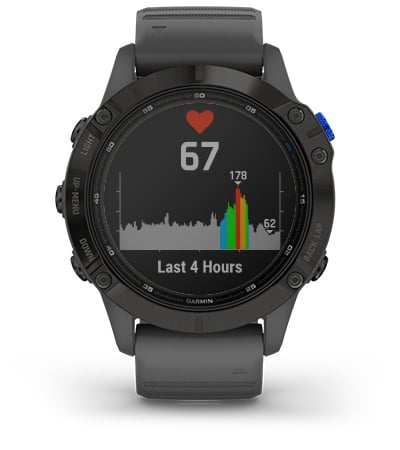 Get heart rate data1 along with alerts if your heart rate stays too high or too low while you're at rest. Gauge how hard your heart is working during activities even underwater.
BODY BATTERY™ ENERGY MONITOR: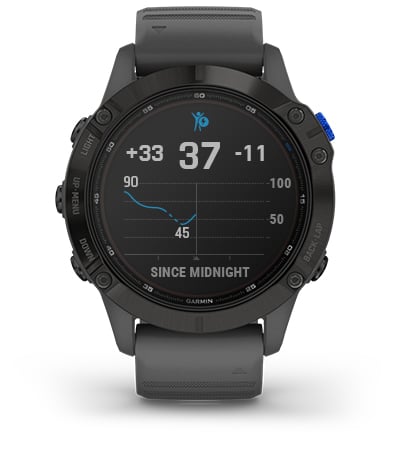 Optimize your body's energy reserves, using heart rate variability, stress, sleep, and other data to gauge when you're ready to be active or when you may need to rest.
ADVANCED SLEEP MONITORING: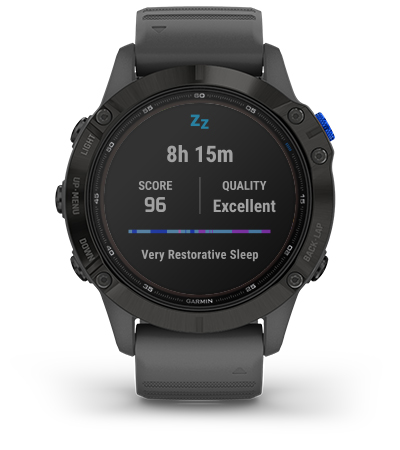 Get a full breakdown of your light, deep, and REM sleep stages as well as Pulse Ox2 and respiration data. View it all on a dedicated widget that includes your sleep score and other insights.
HYDRATION TRACKING: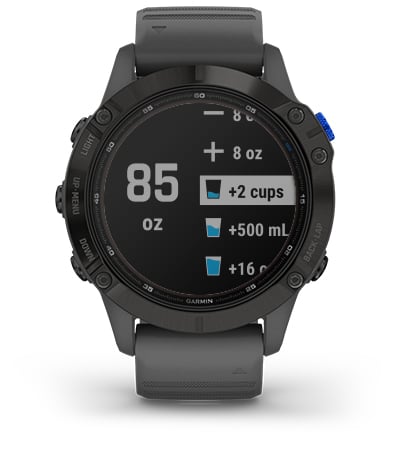 Log daily fluid intake as a reminder to stay hydrated. When an auto goal is enabled, you'll even see estimated sweat loss after an activity, and your goal will adjust accordingly.
DAILY WORKOUT SUGGESTIONS: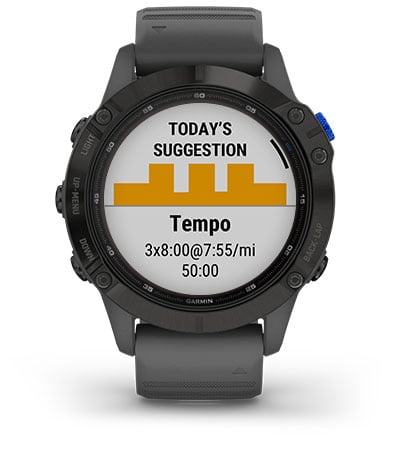 For a training guide that takes you and your fitness level into account, get daily run and ride recommendations based on your current training load and training status.
SOLAR-CHARGED BATTERY: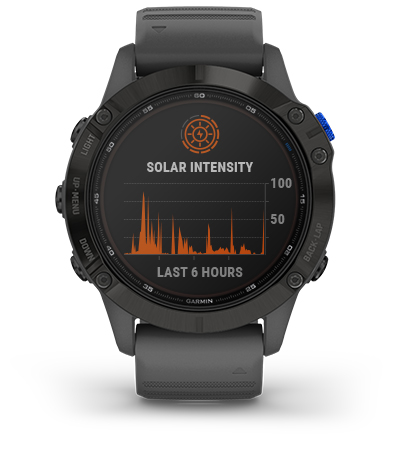 Get up to 14 days of battery life while indoors or up to 16 days when solar charging3 in smartwatch mode. In GPS Mode, get 36 hours indoors or 40 hours when solar charging4.
MUSIC APPS: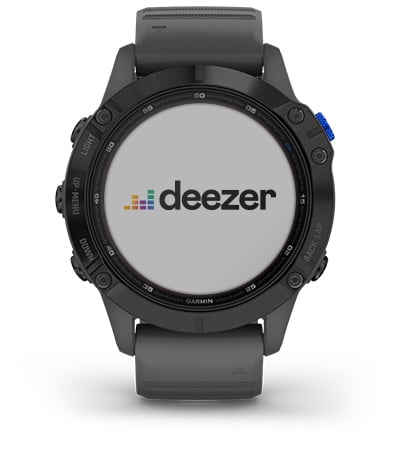 Store up to 2,000 songs, or access streaming apps from your compatible services, including Spotify®, Deezer, and Amazon Music, and listen through headphones with BLUETOOTH® technology.
SAFETY AND TRACKING FEATURES: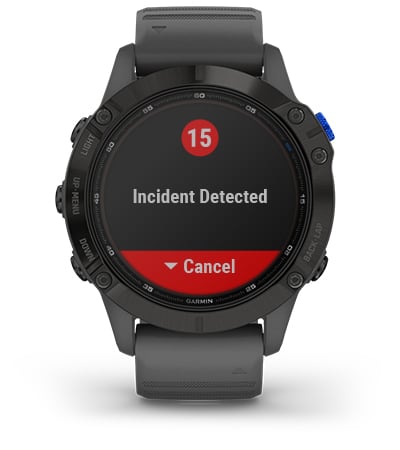 If you feel unsafe or if your watch senses that an incident occurred, assistance and incident detection features5 send your location to emergency contacts.
You reach new heights. Your watch goes with you.

Specifications


Pro Black with Black Band:
LENS MATERIAL Corning® Gorilla® Glass DX or Sapphire Crystal
BEZEL MATERIAL stainless steel or Diamond-like Carbon (DLC) coated steel
CASE MATERIAL fiber-reinforced polymer with metal rear cover
QUICKFIT™ WATCH BAND COMPATIBLE included (20 mm)
STRAP MATERIAL silicone, suede or nylon
PHYSICAL SIZE 42 x 42 x 13.8 mm
Fits wrists with the following circumference:
Silicone band: 108-182 mm
Suede band: 108-175 mm
Fabric band: 108-189 mm
Metal band: 108-180 mm
COLOR DISPLAY Yes
DISPLAY SIZE 1.2" (30.4 mm) diameter
DISPLAY RESOLUTION 240 x 240 pixels
DISPLAY TYPE sunlight-visible, transflective memory-in-pixel (MIP)
WEIGHT Steel: 61 g - case with silicone band (case only: 44 g)
BATTERY LIFE:
Smartwatch: Up to 9 days
Battery Saver Watch Mode: 34 days
GPS: Up to 25 hours
GPS + Music: Up to 6 hours
Max Battery GPS Mode: Up to 50 hours
Expedition GPS Activity: Up to 20 days
WATER RATING 10 ATM
MEMORY/HISTORY 32 GB
Rose Gold-tone with Powder Gray Band:
LENS MATERIAL Power Glass™
BEZEL MATERIAL stainless steel
CASE MATERIAL fiber-reinforced polymer with metal rear cover
QUICKFIT™ WATCH BAND COMPATIBLE included (20 mm)
STRAP MATERIAL silicone
PHYSICAL SIZE 42 x 42 x 14.2 mm
Fits wrists with the following circumference:
Silicone band: 108-182 mm
Suede band: 108-175 mm
Fabric band: 108-189 mm
Metal band: 108-180 mm
COLOR DISPLAY Yes
DISPLAY SIZE 1.2" (30.4 mm) diameter
DISPLAY RESOLUTION 240 x 240 pixels
DISPLAY TYPE sunlight-visible, transflective memory-in-pixel (MIP)
WEIGHT 61 g (case only: 45 g)
BATTERY LIFE:
Smartwatch: Up to 9 days/10.5 days with solar*
Battery Saver Watch Mode: Up to 34 days/59 days with solar*
GPS: Up to 25 hours/28 hours with solar**
GPS + Music: Up to 6 hours
Max Battery GPS Mode: Up to 50 hours/64 hours with solar**
Expedition GPS Activity: Up to 20 days/26 days with solar*
*Solar charging, assuming all-day wear with 3 hours per day outside in 50,000 lux conditions
**Solar charging, assuming use in 50,000 lux conditions
WATER RATING 10 ATM
MEMORY/HISTORY 32 GB
Light Gold with Light Sand Band:
LENS MATERIAL Power Glass™
BEZEL MATERIAL stainless steel
CASE MATERIAL fiber-reinforced polymer with metal rear cover
QUICKFIT™ WATCH BAND COMPATIBLE included (20 mm)
STRAP MATERIAL silicone
PHYSICAL SIZE 42 x 42 x 14.2 mm
Fits wrists with the following circumference:
Silicone band: 108-182 mm
Suede band: 108-175 mm
Fabric band: 108-189 mm
Metal band: 108-180 mm
COLOR DISPLAY Yes
DISPLAY SIZE 1.2" (30.4 mm) diameter
DISPLAY RESOLUTION 240 x 240 pixels
DISPLAY TYPE sunlight-visible, transflective memory-in-pixel (MIP)
WEIGHT 61 g (case only: 45 g)
BATTERY LIFE:
Smartwatch: Up to 9 days/10.5 days with solar*
Battery Saver Watch Mode: Up to 34 days/59 days with solar*
GPS: Up to 25 hours/28 hours with solar**
GPS + Music: Up to 6 hours
Max Battery GPS Mode: Up to 50 hours/64 hours with solar**
Expedition GPS Activity: Up to 20 days/26 days with solar*
*Solar charging, assuming all-day wear with 3 hours per day outside in 50,000 lux conditions
**Solar charging, assuming use in 50,000 lux conditions
WATER RATING 10 ATM
MEMORY/HISTORY 32 GB
In The Box:
fēnix 6 Pro Solar
Charging/data cable
Documentation
fenix 6 Pro Solar - Titanium Carbon Gray DLC with Titanium DLC Band Version Only
fēnix 6 Pro Solar
Black silicone watch band
Charging/data cable
Documentation
Package Included:
1x fēnix® 6 - Pro Solar Edition
View full details