Regular price
$1,799.99 USD
Regular price
Sale price
$1,799.99 USD
Unit price
per
Sale
Sold out
Share
---
COMPACT, HIGH-DEFINITION RADAR DOME
This 18" high-definition radar dome pairs ease of use with advanced features typically found on open arrays for enhanced situational awareness.
Know what's out there.

COMPACT AND POWERFUL:
This 18" dome radar delivers 4-kW transmit power and clear echo definition at all ranges. It has a maximum range of 48 nautical miles and 48- or 24-RPM rotation speeds for fast screen refreshes.
HIGH-RESOLUTION RADAR:
GMR 18 xHD features 8-bit true color high resolution for outstanding target separation with less screen clutter on your Chartplotter.
INTUITIVE OPERATION:
This radar doesn't have any complex user settings to deal with, so it's easy to install and start using.
Performance in all conditions.

DYNAMIC AUTO GAIN:
Gain levels automatically adjust to optimum settings for harbors, near shore and offshore in open waters.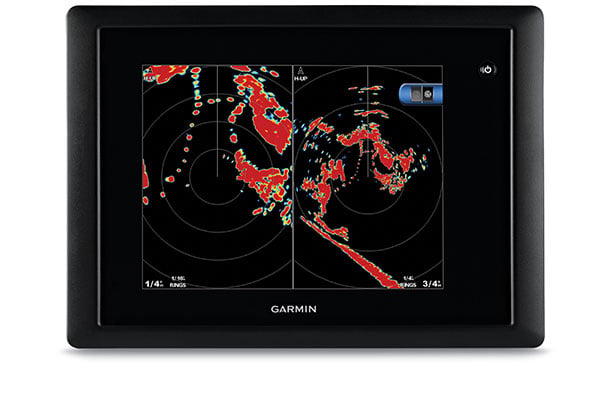 DYNAMIC SEA FILTER:
Gain automatically adjusts sea clutter for calm, medium and rough sea conditions.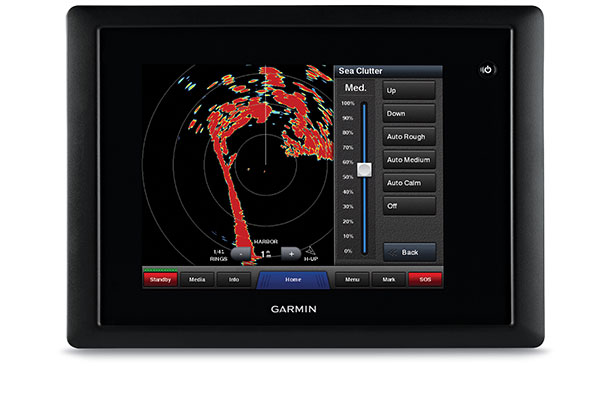 DUAL-RANGE OPERATION:
This feature enables the fully independent split-screen display of far and close radar views.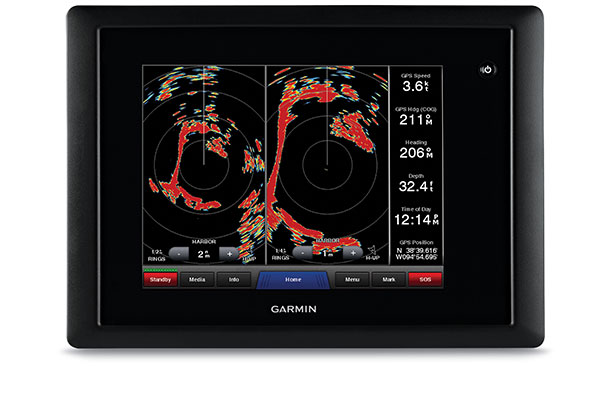 NO TRANSMIT ZONE:
You have the option to protect areas behind the radar from being radiated while providing full forward-looking radar capability. This also makes installation more flexible.
RADAR OVERLAY
Overlay radar images onto your chartplotter's map page. You can add an optional autopilot or heading sensor (sold separately) for best results.
MARPA TARGET TRACKING
GMR 18 xHD provides MARPA target tracking when combined with a multifunction display and heading sensor (sold separately).
GMR™ 18 xHD Radome
General:
PHYSICAL DIMENSIONS 20" diameter, 9.75" high (50.8 cm diameter, 24.8 cm high)
WEIGHT 17 lbs (7.7 kg)
WATER RATING IPX7
PEAK TRANSMIT POWER 4 kW
ANTENNA LENGTH 17" (43.18 cm)
ROTATION SPEED (RPM) 24 and 48 rpm
BEAM WIDTH 5.2° horizontal, 25° vertical
MAXIMUM RANGE 48 nm
MINIMUM RANGE 20 meters
RADAR TYPE Radome
Electrical:
POWER INPUT 11-35 V DC
POWER CONSUMPTION 30 W
MAX POWER CONSUMPTION 48 W
Radar Features:
DUAL RANGE
OVERLAY
DUAL RADAR SUPPORT
AUTOGAIN
MARPA WITH AUTO ACQUISITION Yes (Requires Heading Sensor, Sold Separately)
GMR™ 24 xHD Radome
General:
PHYSICAL DIMENSIONS 25.4" diameter, 9.8" high (64.5 cm diameter, 24.9 cm high)
WEIGHT 21 lb (9.5 kg)
WATER RATING IPX7
PEAK TRANSMIT POWER 4 kW
ANTENNA LENGTH 23" (58.42 cm)
ROTATION SPEED (RPM) 24 and 48 rpm
BEAM WIDTH 3.7° horizontal, 25° vertical
MAXIMUM RANGE 48 nm
MINIMUM RANGE 20 meters
RADAR TYPE Radome
Electrical:
POWER INPUT 11-35 V DC
POWER CONSUMPTION 30 W
MAX POWER CONSUMPTION 48 W
Radar Features:
DUAL RANGE
OVERLAY
DUAL RADAR SUPPORT
AUTOGAIN
MARPA WITH AUTO ACQUISITION Yes (Requires Heading Sensor, Sold Separately)
GMR™ 18 HD+ Radome
General:
PHYSICAL DIMENSIONS 20" diameter, 9.8" high (50.8 cm diameter, 24.8 cm high)
WEIGHT 17 lbs (7.7 kg)
WATER RATING IPX7
PEAK TRANSMIT POWER 4 kW
ANTENNA LENGTH 17" (43.18 cm)
ROTATION SPEED (RPM) 24 rpm
BEAM WIDTH 5.2° horizontal, 25° vertical
MAXIMUM RANGE 36 nm
MINIMUM RANGE 20 meters
RADAR TYPE Radome
Electrical:
POWER INPUT 11-35 V DC
POWER CONSUMPTION 30 W
MAX POWER CONSUMPTION 48 W
Radar Features:
OVERLAY
DUAL RADAR SUPPORT
AUTOGAIN
MARPA WITH AUTO ACQUISITION Yes (Requires Heading Sensor, Sold Separately)
GMR™ 424 xHD2 Open Array Radar and Pedestal
General:
PHYSICAL DIMENSIONS
4' array: 52.25" x 5" x 6.75" (132.7 x 12.7 x 17.1 cm)
Pedestal: 20.5" x 12.75" x 12.5" (52 x 32.4 x 31.8 cm)
WEIGHT array: 12.2 lb (5.5 kg)
pedestal: 47.1 lb (21.4 kg)
WATER RATING IPX6
PEAK TRANSMIT POWER 4 kW
MAX WIND LOAD 80kt
ANTENNA LENGTH 48" (121.92 cm)
ROTATION SPEED (RPM) 24 and 48 rpm
BEAM WIDTH 1.8° horizontal, 23° vertical
MAXIMUM RANGE 72 nm
MINIMUM RANGE 20 meters
RADAR TYPE Open-Array
Electrical:
POWER INPUT 10-32 V DC
POWER CONSUMPTION 55 W
Radar Features:
DUAL RANGE
OVERLAY
DUAL RADAR SUPPORT
AUTOBIRD GAIN
AUTOGAIN Dynamic
MARPA WITH AUTO ACQUISITION Yes (Requires Heading Sensor, Sold Separately)
ECHO TRAILS
PROGRAMMABLE ANTENNA PARKING
TARGET SIZE Pulse Expansion
GMR™ 1224 xHD2 Open Array Radar and Pedestal
General:
PHYSICAL DIMENSIONS
4' array: 52.25" x 5" x 6.75" (132.7 x 12.7 x 17.1 cm)
Pedestal: 20.5" x 12.75" x 12.5" (52 x 32.4 x 31.8 cm)
WEIGHT array: 12.2 lb (5.5 kg)
pedestal: 47.1 lb (21.4 kg)
WATER RATING IPX6
PEAK TRANSMIT POWER 12 kW
MAX WIND LOAD 80kt
ANTENNA LENGTH 48" (121.92 cm)
ROTATION SPEED (RPM) 24 and 48 rpm
BEAM WIDTH 1.8° horizontal, 23° vertical
MAXIMUM RANGE 72 nm
MINIMUM RANGE 20 meters
RADAR TYPE Open-Array
Electrical:
POWER INPUT 10-32 V DC
POWER CONSUMPTION 90 W
Radar Features:
DUAL RANGE
OVERLAY
DUAL RADAR SUPPORT
AUTOBIRD GAIN
AUTOGAIN Dynamic
MARPA WITH AUTO ACQUISITION Yes (Requires Heading Sensor, Sold Separately)
ECHO TRAILS
PROGRAMMABLE ANTENNA PARKING
TARGET SIZE Pulse Expansion
GMR™ 1226 xHD2 Open Array Radar and Pedestal
General:
PHYSICAL DIMENSIONS
6' array: 76.25" x 5" x 6.75" (193.6 x 12.7 x 17.1 cm)
Pedestal: 20.5" x 12.75" x 12.5" (52 x 32.4 x 31.8 cm)
WEIGHT array: 16.9 lb (7.7 kg)
pedestal: 47.1 lb (21.4 kg)
WATER RATING IPX6
PEAK TRANSMIT POWER 12 kW
MAX WIND LOAD 80kt
ANTENNA LENGTH 72" (182.88 cm)
ROTATION SPEED (RPM) 24 and 48 rpm
BEAM WIDTH 1.1° horizontal, 23° vertical
MAXIMUM RANGE 72 nm
MINIMUM RANGE 20 meters
RADAR TYPE Open-Array
Electrical:
POWER INPUT 10-32 V DC
POWER CONSUMPTION 90 W
Radar Features:
DUAL RANGE
OVERLAY
DUAL RADAR SUPPORT
AUTOBIRD GAIN
AUTOGAIN Dynamic
MARPA WITH AUTO ACQUISITION Yes (Requires Heading Sensor, Sold Separately)
ECHO TRAILS
PROGRAMMABLE ANTENNA PARKING
TARGET SIZE Pulse Expansion
GMR™ 2524 xHD2 Open Array Radar and Pedestal
General:
PHYSICAL DIMENSIONS
4' array: 52.25" x 5" x 6.75" (132.7 x 12.7 x 17.1 cm)
Pedestal: 20.5" x 12.75" x 12.5" (52 x 32.4 x 31.8 cm)
WEIGHT array: 12.2 lb (5.5 kg)
pedestal: 47.1 lb (21.4 kg)
WATER RATING IPX6
PEAK TRANSMIT POWER 25 kW
MAX WIND LOAD 80kt
ANTENNA LENGTH 48" (121.92 cm)
ROTATION SPEED (RPM) 24 and 48 rpm
BEAM WIDTH 1.8° horizontal, 23° vertical
MAXIMUM RANGE 96 nm
MINIMUM RANGE 20 meters
RADAR TYPE Open-Array
Electrical:
POWER INPUT 10-32 V DC
POWER CONSUMPTION 100 W
Radar Features:
DUAL RANGE
OVERLAY
DUAL RADAR SUPPORT
AUTOBIRD GAIN
AUTOGAIN Dynamic
MARPA WITH AUTO ACQUISITION Yes (Requires Heading Sensor, Sold Separately)
ECHO TRAILS
PROGRAMMABLE ANTENNA PARKING
TARGET SIZE Pulse Expansion
GMR™ 2526 xHD2 Open Array Radar and Pedestal
General:
PHYSICAL DIMENSIONS
6' array: 76.25" x 5" x 6.75" (193.6 x 12.7 x 17.1 cm)
Pedestal: 20.5" x 12.75" x 12.5" (52 x 32.4 x 31.8 cm)
WEIGHT array: 16.9 lb (7.7 kg)
pedestal: 47.1 lb (21.4 kg)
WATER RATING IPX6
PEAK TRANSMIT POWER 25 kW
MAX WIND LOAD 80kt
ANTENNA LENGTH 72" (182.88 cm)
ROTATION SPEED (RPM) 24 and 48 rpm
BEAM WIDTH 1.1° horizontal, 23° vertical
MAXIMUM RANGE 96 nm
MINIMUM RANGE 20 meters
RADAR TYPE Open-Array
Electrical:
POWER INPUT 10-32 V DC
POWER CONSUMPTION 100 W
Radar Features:
DUAL RANGE
OVERLAY
DUAL RADAR SUPPORT
AUTOBIRD GAIN
AUTOGAIN Dynamic
MARPA WITH AUTO ACQUISITION Yes (Requires Heading Sensor, Sold Separately)
ECHO TRAILS
PROGRAMMABLE ANTENNA PARKING
TARGET SIZE Pulse Expansion
GMR™ 426 xHD2 Antenna and Pedestal
General:
PHYSICAL DIMENSIONS
6' array: 76.25" x 5" x 6.75" (193.6 x 12.7 x 17.1 cm)
Pedestal: 20.5" x 12.75" x 12.5" (52 x 32.4 x 31.8 cm)
WEIGHT 
Array: 16.9 lbs (7.7 kg)
Pedestal: 47.1 lbs (21.4 kg)
WATER RATING IPX6
PEAK TRANSMIT POWER 4 kW
MAX WIND LOAD 80kt
ANTENNA LENGTH 72" (182.88 cm)
BEAM WIDTH 1.1° horizontal, 23° vertical
MAXIMUM RANGE 72 nm
MINIMUM RANGE 20 meters
RADAR TYPE Open-Array
Electrical:
POWER INPUT 10-32 V DC
POWER CONSUMPTION 55 W
Radar Features:
DUAL RANGE
OVERLAY
DUAL RADAR SUPPORT
AUTOBIRD GAIN
AUTOGAIN Dynamic
MARPA WITH AUTO ACQUISITION Yes (Requires Heading Sensor, Sold Separately)
ECHO TRAILS
PROGRAMMABLE ANTENNA PARKING
TARGET SIZE Pulse Expansion
IN THE BOX
GMR™ 18 xHD Radome:
GMR 18 xHD
Mounting hardware kit
Power cable (15 m/49.21 ft)
Network cable (15 m/49.21 ft)
Installation instructions
Mounting template
Grommet for marine cable
GMR™ 24 xHD Radome:
GMR 24 xHD
Mounting hardware kit
Power cable (15 m/49.21 ft)
Network cable (15 m/49.21 ft)
Installation instructions
Mounting template
Grommet for marine cable
GMR™ 18 HD+ Radome:
GMR 18 HD+ radome
Mounting hardware kit
Power cable (15 m/49.21 ft)
Network cable (15 m/49.21 ft)
Installation instructions
Mounting template
GMR™ 424 xHD2 Open Array Radar and Pedestal:
GMR 424 xHD2
Mounting hardware kit and template
Power cable (15 meters)
Network cable (15 meters)
Cable grommet
Documentation
GMR™ 1224 xHD2 Open Array Radar and Pedestal:
GMR 1224 xHD2
Mounting hardware kit and template
Power cable (15 meters)
Network cable (15 meters)
Cable grommet
Voltage converter
Documentation
GMR™ 1226 xHD2 Open Array Radar and Pedestal:
GMR 1226 xHD2
Mounting hardware kit and template
Power cable (15 meters)
Network cable (15 meters)
Cable grommet
Voltage converter
Documentation
GMR™ 2524 xHD2 Open Array Radar and Pedestal:
GMR 2524 xHD2 (Antenna and Pedestal)
Mounting hardware kit and template
Power cable (15 meters)
Network cable (15 meters)
Cable grommet
Voltage converter
Documentation
GMR™ 2526 xHD2 Open Array Radar and Pedestal:
GMR 2526 xHD2 (Antenna and Pedestal)
Mounting hardware kit and template
Power cable (15 meters)
Network cable (15 meters)
Cable grommet
Voltage converter
Documentation
GMR™ 426 xHD2 Antenna and Pedestal:
GMR 426 xHD2
Mounting hardware kit and template
Power cable (15 meters)
Network cable (15 meters)
Cable grommet
Documentation
View full details