GMR Fantom™ 18, 54, 56, 124, 126, 254, and 256 Open Array, Antenna Pedestal, and Radome (Optional) Garmin Radars
GMR Fantom™ 18, 54, 56, 124, 126, 254, and 256 Open Array, Antenna Pedestal, and Radome (Optional) Garmin Radars
Regular price
$1,999.99 USD
Regular price
Sale price
$1,999.99 USD
Unit price
per
Sale
Sold out
Share
---
THE POWER TO SEE MORE
GMR Fantom™ 256 is the most powerful 6' consumer solid-state radar.
Know what's out there.

MOTIONSCOPE TECHNOLOGY:
MotionScope technology detects and highlights moving targets in different colors to help avoid collisions, find flocks of birds and track weather from 20' to 96 nautical miles.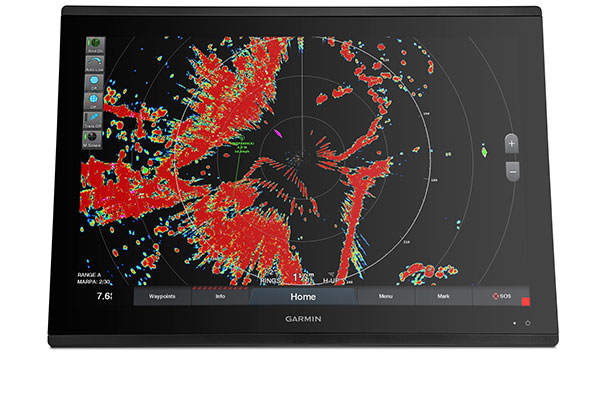 AUTOMATIC ACQUISITION:
New mini-automatic radar plotting aid (MARPA) automatic acquisition allows for triggering and tracking of up to 30 targets with no user prompting on all returns, boundary zones, guard zones or MotionScope.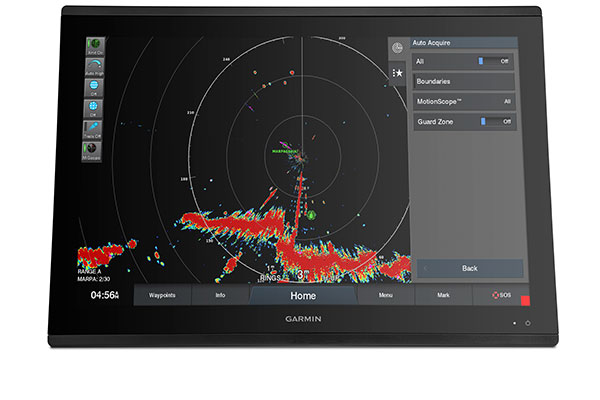 CLEAR THE WAY:
Scan-to-scan averaging aids in reduction of sea clutter and interference, so you have a clear view of what's out there.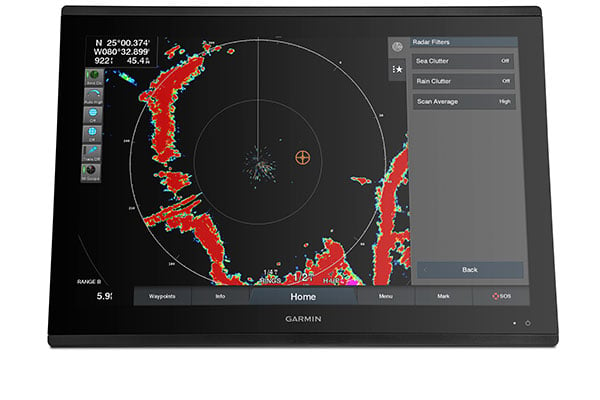 AUTO BIRD GAIN:
Where there are birds on the water's surface, there are fish below it. Auto Bird Gain helps you locate flocks of birds at the water's surface.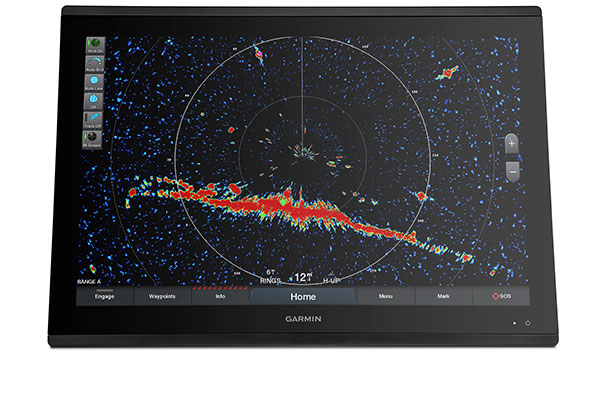 PULSE COMPRESSION:
This feature provides high-resolution imaging while maximizing energy to enhance target detection and identification.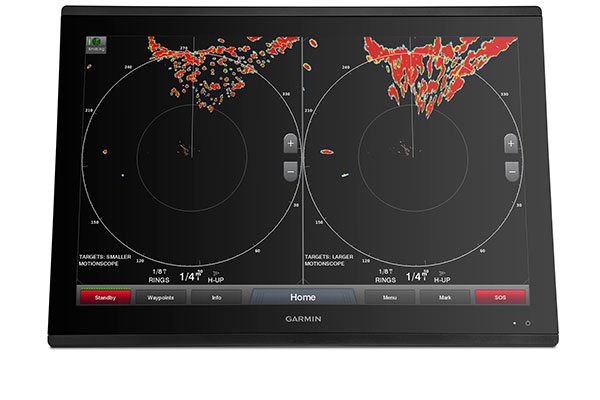 ECHO TRAILS:
True Echo Trails feature displays a fading trail to help you quickly and easily identify moving targets while accounting for the movement of your own boat.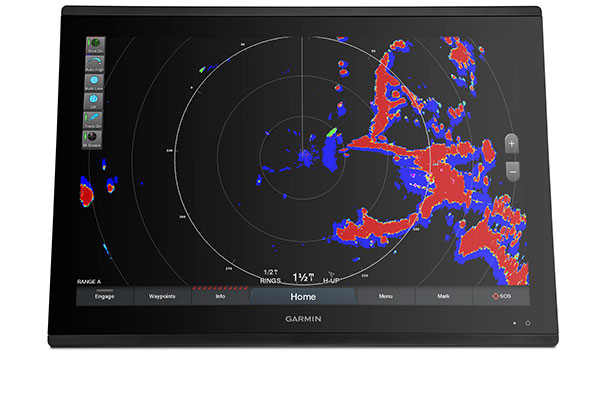 RADAR OVERLAY:
Overlay radar on your chart screen as single display or split screen with independent range settings.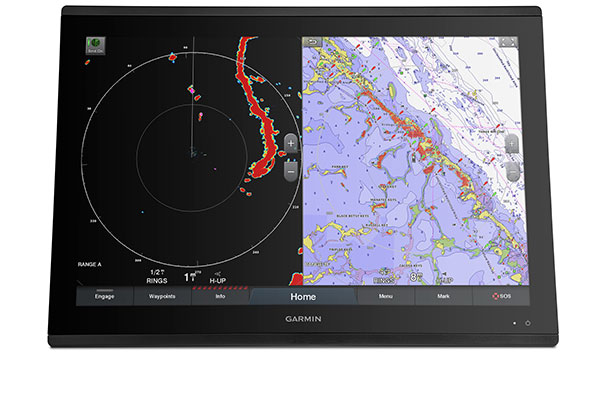 DYNAMIC SEA FILTER:
Dynamic Sea Filter automatically adjusts gain to calm, medium and rough sea conditions.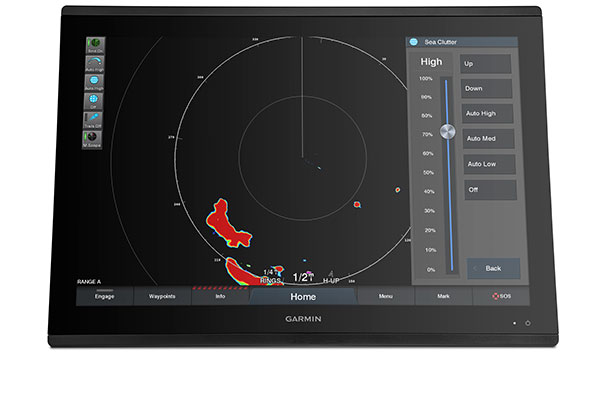 GUARD ZONE:
Set the safety zone and receive an alarm when an object enters the zone.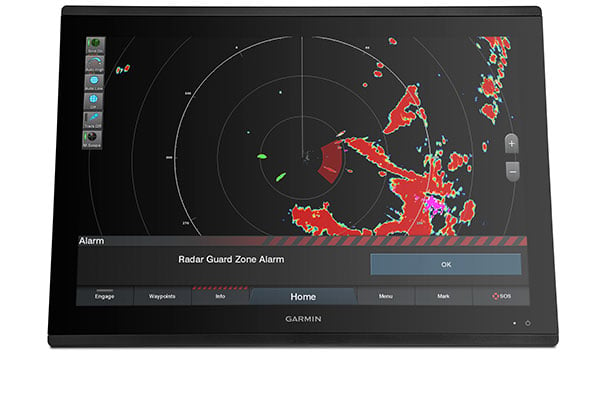 GMR Fantom™ 18" Radome 40 W:
General:
PHYSICAL DIMENSIONS 20" x 9.8" (50.8 cm x 24.8 cm)
WEIGHT 13.6 lbs (6.2 kg)
WATER RATING IPX7
PEAK TRANSMIT POWER 40 W
ANTENNA LENGTH 17" (43.18 cm)
ROTATION SPEED (RPM) 24 and 48 rpm (high speed only available in single range mode with MotionScope disabled, and on range settings of 12 NM or lower)
BEAM WIDTH 5.2° horizontal, 25° vertical
MAXIMUM RANGE 48 nm
MINIMUM RANGE 6 meters
RADAR TYPE Radome.
Electrical:
POWER INPUT 10-32 V DC
POWER CONSUMPTION 18 W
MAX POWER CONSUMPTION 25 W
Radar Features:
DUAL RANGE
OVERLAY
DUAL RADAR SUPPORT
AUTOBIRD GAIN
AUTOGAIN Dynamic
MARPA WITH AUTO ACQUISITION Yes (Requires Heading Sensor, Sold Separately)
ECHO TRAILS
MOTIONSCOPE
GMR Fantom™ 24" Radome 40 W:
General:
PHYSICAL DIMENSIONS 25.4" x 9.8" (64.5 cm x 24.9 cm)
WEIGHT 21 lb (9.5 kg)
WATER RATING IPX7
PEAK TRANSMIT POWER 40 W
ANTENNA LENGTH 23" (58.42 cm)
ROTATION SPEED (RPM) 24 and 48 rpm (high speed only available in single range mode with MotionScope disabled, and on range settings of 12 NM or lower)
BEAM WIDTH 3.7° horizontal, 25° vertical
MAXIMUM RANGE 48 nm
MINIMUM RANGE 6 meters
RADAR TYPE Radome
Electrical:
POWER INPUT 10-32 V DC
POWER CONSUMPTION 18 W
MAX POWER CONSUMPTION 25 W
Radar Features:
DUAL RANGE
OVERLAY
DUAL RADAR SUPPORT
AUTOBIRD GAIN
AUTOGAIN Dynamic
MARPA WITH AUTO ACQUISITION Yes (Requires Heading Sensor, Sold Separately)
ECHO TRAILS
MOTIONSCOPE
GMR Fantom™ 54 4' 50W Open Array Radar and Pedestal:
General:
PHYSICAL DIMENSIONS
Pedestal: 16.6" x 14.3" x 10.7"
Pedestal: 42.1 x 36.4 x 27.1 cm
Full assembly: 15.9" height x 51.8" diameter
Full assembly: 40.3 cm height x 131.4 cm diameter
WEIGHT
Array: 11.4 lb (5.2 kg)
Pedestal: 34.7 lb (15.7 kg)
WATER RATING IPX6
PEAK TRANSMIT POWER 50 W
MAX WIND LOAD 80kt
ANTENNA LENGTH 48" (121.92 cm)
ROTATION SPEED (RPM) 24 and 48 rpm (high speed only available in single range mode with MotionScope disabled, and on range settings of 12 NM or lower)
BEAM WIDTH 1.8° horizontal, 23° vertical
MAXIMUM RANGE 72 nm
MINIMUM RANGE 6 meters
RADAR TYPE Open-Array
Electrical:
POWER INPUT 10-32 V DC
POWER CONSUMPTION 65 W
MAX POWER CONSUMPTION 170 W
Radar Features:
DUAL RANGE
OVERLAY
DUAL RADAR SUPPORT
AUTOBIRD GAIN
AUTOGAIN Dynamic
MARPA WITH AUTO ACQUISITION Yes (Requires Heading Sensor, Sold Separately)
ECHO TRAILS
MOTIONSCOPE
PROGRAMMABLE ANTENNA PARKING
TARGET SIZE
SCAN AVERAGING
GMR Fantom™ 56 6' Open Array and Pedestal:
General:
PHYSICAL DIMENSIONS
Pedestal: 16.6" x 14.3" x 10.7"
Pedestal: 42.1 x 36.4 x 27.1 cm
Full assembly: 15.9" height x 75.2" diameter
Full assembly: 40.3 cm height x 190.9 cm diameter
WEIGHT:
Array: 16 lb (7.3 kg)
Pedestal: 34.7 lb (15.7 kg)
WATER RATING IPX6
PEAK TRANSMIT POWER 50 W
MAX WIND LOAD 80kt
ANTENNA LENGTH 72" (182.9 cm)
ROTATION SPEED (RPM) 24 and 48 rpm (high speed only available in single range mode with MotionScope disabled, and on range settings of 12 NM or lower)
BEAM WIDTH 1.25° horizontal, 23° vertical
MAXIMUM RANGE 72 nm
MINIMUM RANGE 6 meters
RADAR TYPE Open-Array
Electrical:
POWER INPUT 10-32 V DC
POWER CONSUMPTION 65 W
MAX POWER CONSUMPTION 170 W
Radar Features:
DUAL RANGE
OVERLAY
DUAL RADAR SUPPORT
AUTOBIRD GAIN
AUTOGAIN Dynamic
MARPA WITH AUTO ACQUISITION (Requires Heading Sensor, Sold Separately)
ECHO TRAILS
MOTIONSCOPE
PROGRAMMABLE ANTENNA PARKING
TARGET SIZE
SCAN AVERAGING
GMR Fantom™ 124 120W Open Array and Pedestal:
General:
PHYSICAL DIMENSIONS
Pedestal: 16.6" x 14.3" x 10.7"
Pedestal: 42.1 x 36.4 x 27.1 cm
Full assembly: 15.9" height x 51.8" diameter
Full assembly: 40.3 cm height x 131.4 cm diameter
WEIGHT
Array: 11.4 lb (5.2 kg)
Pedestal: 34.7 lb (15.7 kg)
WATER RATING IPX6
PEAK TRANSMIT POWER 120 W
MAX WIND LOAD 80kt
ANTENNA LENGTH 48" (121.92 cm)
ROTATION SPEED (RPM) 24 and 48 rpm (high speed only available in single range mode with MotionScope disabled, and on range settings of 12 NM or lower)
BEAM WIDTH 1.8° horizontal, 23° vertical
MAXIMUM RANGE 96 nm
MINIMUM RANGE 6 meters
RADAR TYPE Open-Array
Electrical:
POWER INPUT 10-32 V DC
POWER CONSUMPTION 80 W
MAX POWER CONSUMPTION 185 W
Radar Features:
DUAL RANGE
OVERLAY
DUAL RADAR SUPPORT
AUTOBIRD GAIN
AUTOGAIN Dynamic
MARPA WITH AUTO ACQUISITION Yes (Requires Heading Sensor, Sold Separately)
ECHO TRAILS
MOTIONSCOPE
PROGRAMMABLE ANTENNA PARKING
TARGET SIZE
SCAN AVERAGING
GMR Fantom™ 126 Open Array and Pedestal:
General:
PHYSICAL DIMENSIONS
Pedestal: 16.6" x 14.3" x 10.7"
Pedestal: 42.1 x 36.4 x 27.1 cm
Full assembly: 15.9" height x 75.2" diameter
Full assembly: 40.3 cm height x 190.9 cm diameter
WEIGHT
Array: 16 lb (7.3 kg)
Pedestal: 34.7 lb (15.7 kg)
WATER RATING IPX6
PEAK TRANSMIT POWER 120 W
MAX WIND LOAD 80kt
ANTENNA LENGTH 72" (182.9 cm)
ROTATION SPEED (RPM) 24 and 48 rpm (high speed only available in single range mode with MotionScope disabled, and on range settings of 12 NM or lower)
BEAM WIDTH 1.25° horizontal, 23° vertical
MAXIMUM RANGE 96 nm
MINIMUM RANGE 6 meters
RADAR TYPE Open-Array
Electrical:
POWER INPUT 10-32 V DC
POWER CONSUMPTION 80 W
MAX POWER CONSUMPTION 185 W
Radar Features:
DUAL RANGE
OVERLAY
DUAL RADAR SUPPORT
AUTOBIRD GAIN
AUTOGAIN Dynamic
MARPA WITH AUTO ACQUISITION Yes (Requires Heading Sensor, Sold Separately)
ECHO TRAILS
MOTIONSCOPE
PROGRAMMABLE ANTENNA PARKING
TARGET SIZE
SCAN AVERAGING
GMR Fantom™ 254 with Antenna and Pedestal:
General:
PHYSICAL DIMENSIONS Pedestal: 16.6" x 14.3" x 10.7" (42.1 x 36.4 x 27.1 cm)
Full assembly: 15.9" height x 51.8" diameter (40.3 cm x 131.4 cm)
WEIGHT
Array: 11.4 lb (5.2 kg)
Pedestal: 34.7 lb (15.7 kg)
WATER RATING IPX6
PEAK TRANSMIT POWER 250 W
MAX WIND LOAD 80kt
ANTENNA LENGTH 48" (121.92 cm)
ROTATION SPEED (RPM) 24 and 48 rpm (high speed only available in single range mode with MotionScope disabled, and on range settings of 12 NM or lower)
BEAM WIDTH 1.8° horizontal, 23° vertical
MAXIMUM RANGE 96 nm
MINIMUM RANGE 6 meters
RADAR TYPE Open-Array
Electrical:
POWER INPUT 10-32 V
POWER CONSUMPTION 150 W
MAX POWER CONSUMPTION 260 W
Radar Features:
DUAL RANGE
OVERLAY
DUAL RADAR SUPPORT
AUTOBIRD GAIN
AUTOGAIN Dynamic
MARPA WITH AUTO ACQUISITION Yes (Requires Heading Sensor, Sold Separately)
ECHO TRAILS
MOTIONSCOPE
PROGRAMMABLE ANTENNA PARKING
TARGET SIZE
SCAN AVERAGING
GMR Fantom™ 256 Antenna and Pedestal:
General:
PHYSICAL DIMENSIONS Pedestal: 16.6" x 14.3" x 10.7" (42.1 x 36.4 x 27.1 cm)
Full assembly: 15.9" height x 75.2" diameter (40.3 cm x 190.9 cm)
WEIGHT
Array: 16.0 lb (7.3 kg)
Pedestal: 34.7 lb (15.7 kg)
WATER RATING IPX6
PEAK TRANSMIT POWER 250 W
MAX WIND LOAD 80kt
ANTENNA LENGTH 72" (182.9 cm)
ROTATION SPEED (RPM) 24 and 48 rpm (high speed only available in single range mode with MotionScope disabled, and on range settings of 12 NM or lower)
BEAM WIDTH 1.25° horizontal, 23° vertical
MAXIMUM RANGE 96 nm
MINIMUM RANGE 6 meters
RADAR TYPE Open-Array
Electrical:
POWER INPUT 10-32 V
POWER CONSUMPTION 150 W
MAX POWER CONSUMPTION 260 W
Radar Features:
DUAL RANGE
OVERLAY
DUAL RADAR SUPPORT
AUTOBIRD GAIN
AUTOGAIN Dynamic
MARPA WITH AUTO ACQUISITION Yes (Requires Heading Sensor, Sold Separately)
ECHO TRAILS
MOTIONSCOPE
PROGRAMMABLE ANTENNA PARKING
TARGET SIZE
SCAN AVERAGING
IN THE BOX
GMR Fantom™ 18"

 

Radome 40 W:
GMR Fantom 18
Mounting hardware kit
Power cable (15 m/49.21 ft)
Network cable (15 m/49.21 ft)
Installation instructions
Mounting template
GMR Fantom™ 24" Radome 40 W:
GMR Fantom 24
Mounting hardware kit
Power cable (15 m/49.21 ft)
Network cable (15 m/49.21 ft)
Installation instructions
Mounting template
GMR Fantom™ 54 4' 50W
 

Open Array Radar and Pedestal:
GMR Fantom 54 antenna and pedestal
Mounting hardware kit and template
Right angle power cable (15 meters)
Right angle network cable (15 meters)
Documentation
GMR Fantom™ 56 6'
 

Open Array and Pedestal:
GMR Fantom 56 antenna and pedestal
Mounting hardware kit and template
Right angle power cable (15 meters)
Right angle network cable (15 meters)
Documentation
GMR Fantom™ 124 Open Array and Pedestal:
GMR Fantom 124 antenna and pedestal
Mounting hardware kit and template
Right angle power cable (15 meters)
Right angle network cable (15 meters)
Voltage converter
Documentation
GMR Fantom™ 126 Open Array and Pedestal:
GMR Fantom 126 antenna and pedestal
Mounting hardware kit and template
Right angle power cable (15 meters)
Right angle network cable (15 meters)
Voltage converter
Documentation
GMR Fantom™ 254 with Antenna and Pedestal:
GMR Fantom 254 antenna and pedestal
Mounting hardware kit and template
Right angle power cable (15 meters)
Right angle network cable (15 meters)
Voltage converter
Documentation
GMR Fantom™ 256 Antenna and Pedestal:
GMR Fantom 256 antenna and pedestal
Mounting hardware kit and template
Right angle power cable (15 meters)
Right angle network cable (15 meters)
Voltage converter
Documentation
View full details