Regular price
$1,899.99 USD
Regular price
Sale price
$1,899.99 USD
Unit price
per
Sale
Sold out
Share

FISH WITH THE POWER OF PANOPTIX SONAR
Drill fewer holes and catch more fish when you use Panoptix technology, now included with the Panoptix PS22 ice fishing bundle.
Catch more fish wherever you drop your line.

Echomap UHD:
Use the 7" ECHOMAP UHD 73cv touchscreen combo with keyed assist for three types of sonar, and go from ice to open water.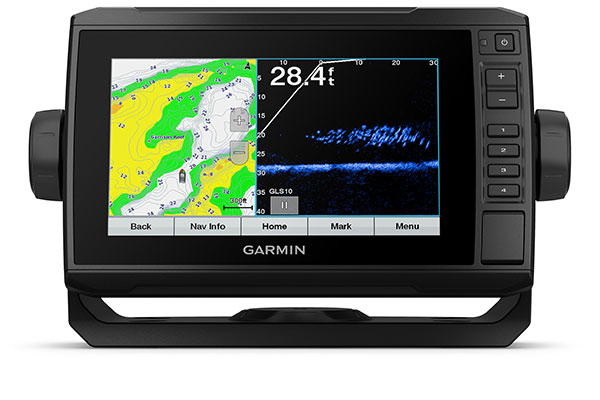 Echomap UHD:
Revolutionary real-time sonar pairs with a large ECHOMAP UHD 93sv combo touchscreen display, allowing you to see up to 200' in any direction.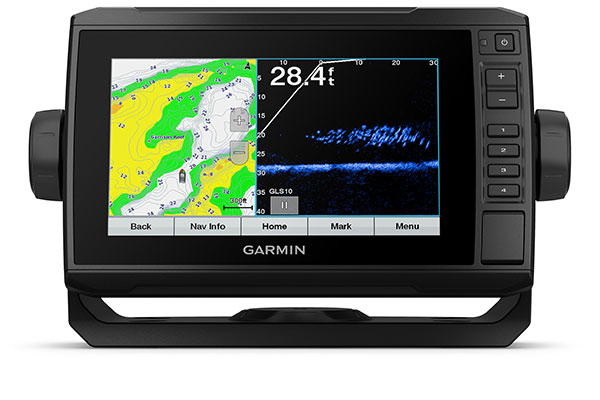 Two Modes, One Transducer:
Adapt your fishing technique with a Panoptix LiveScope system, which offers two scanning sonar modes. The bundle also includes a battery, charger and swivel pole mount.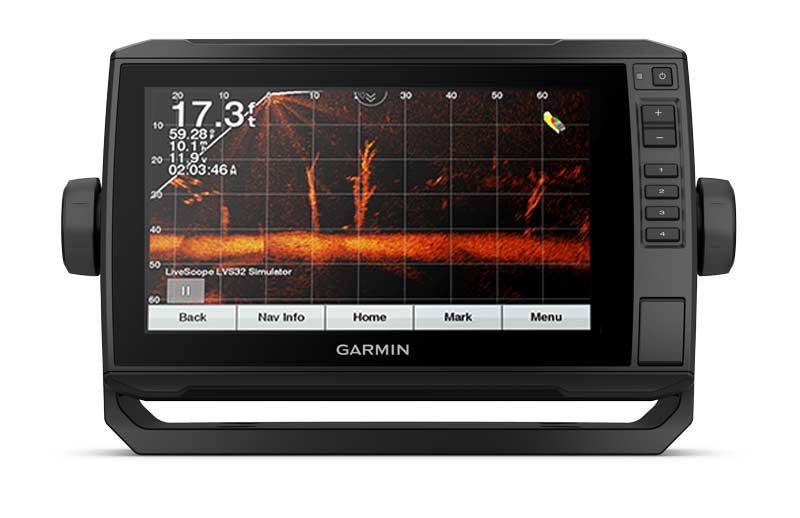 Panoptix Transducer:
See what's below the surface with the included Panoptix PS22-TR transducer. Use the swivel pole mount to change your angle.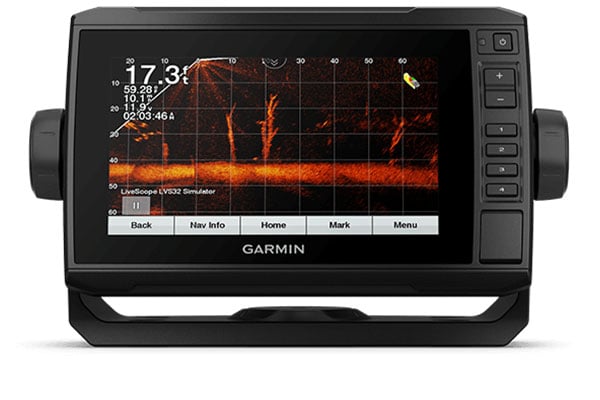 Livevü Forward:
LiveVü Forward sonar shows up to 100' all around you and below the ice, so you can locate schools of fish and know where to drill the next hole.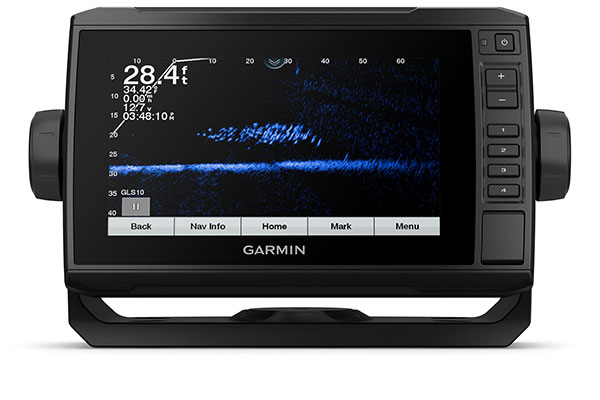 Livevü Down:
LiveVü Down sonar shows moving sonar images of what is below the ice, so you can watch fish respond to your jig.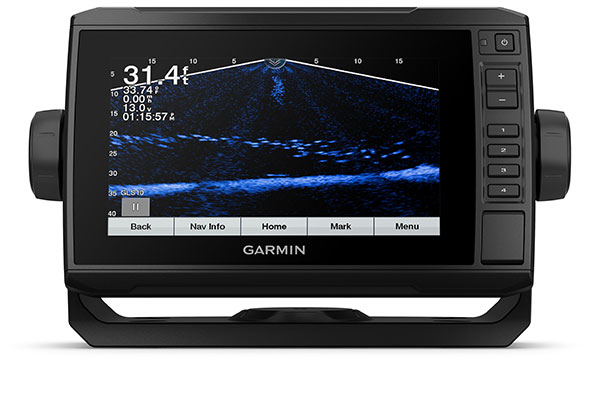 Garmin Chirp Sonar:
Garmin CHIRP traditional sonar provides crystal-clear images with remarkable target separation and jig detection.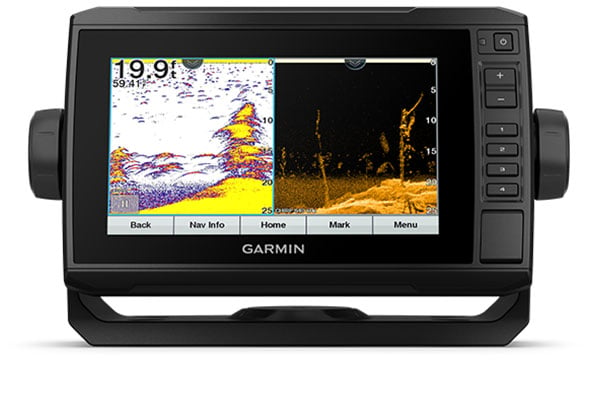 Lakevü G3 Maps:
The unit comes preloaded with LakeVü g3 maps with integrated Navionics® data, covering more than 18,000 lakes in the U.S.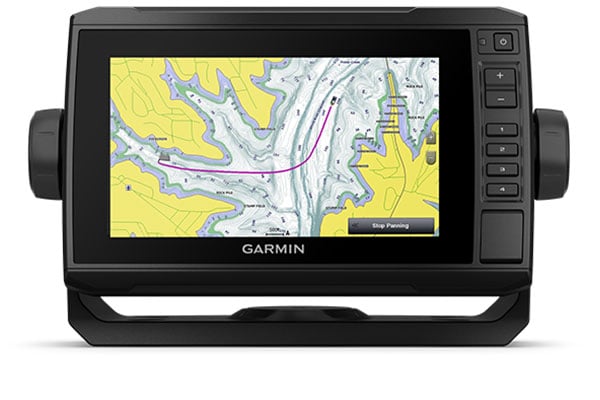 Built-In Flasher:
The built-in flasher provides accurate jig and fish detection as they swim into the sonar beam.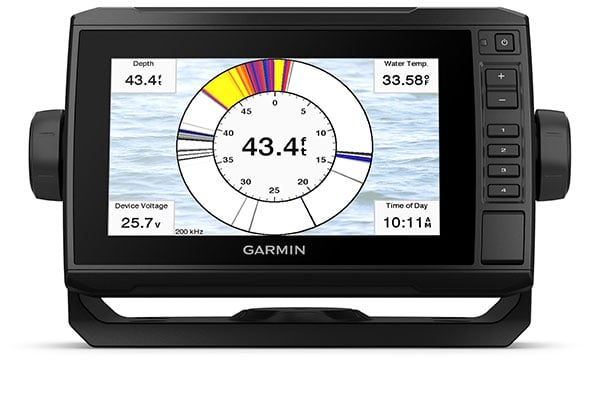 Custom Combos:
You can create custom pages that combine sonar, flasher and map on your display.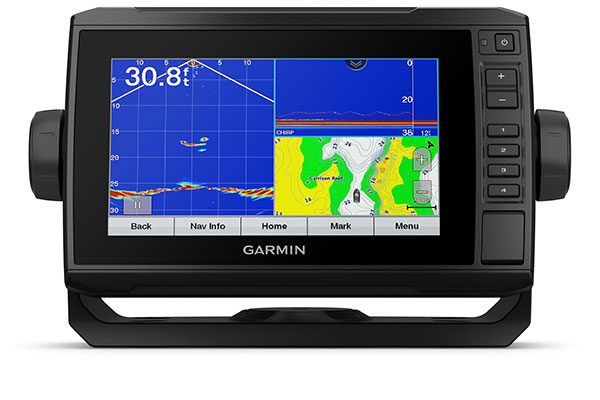 Carrying Case:
Where you take your bundle is up to you. But the rugged, portable carrying case lets you easily transport it from hole to hole and season to season.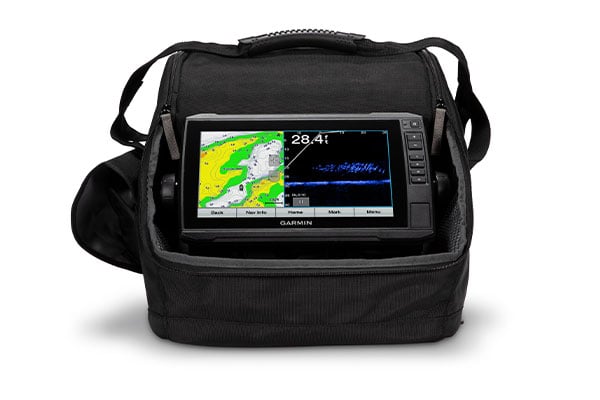 Panoptix™ PS22 Ice Fishing Bundle Includes ECHOMAP™ UHD 73cv 7":
General:

PHYSICAL DIMENSIONS 12.3" × 14.5" × 10.0" (31.1 × 36.7 × 25.4 cm)

DISPLAY SIZE 6.0"x3.6"; 7.0" diagonal (15.2 x 9.1 cm; 17.8 cm diagonal)

DISPLAY RESOLUTION 800 x 480 pixels

DISPLAY TYPE WVGA display

WEIGHT 16.7 lbs (7.6 kg)

WATER RATING IPX7

POWER CONSUMPTION 6.2 W

ANTENNA Internal or external over NMEA 2000

TRANSMIT POWER GT10HN-IF Transducer: 500 W (RMS) / 4,000 W (peak to peak)

RECEIVER 5 Hz

GARMIN MARINE NETWORK™ PORTS

1 Panoptix™ port
Maps & Memory:
PRELOADED MAPS

LakeVü g3 (inland maps)

ACCEPTS DATA CARDS

1 microSD™ card; 32 GB maximum card size

WAYPOINTS 5,000

TRACK LOG 50,000 points; 50 saved tracks

ROUTES 100
Outdoor Recreation:
TIDE TABLES

Chartplotter Features

GARMIN SONAR COMPATIBLE Yes
Sonar Features & Specifications:
FREQUENCIES SUPPORTED 

Panoptix PS22-TR: 417 kHz

GT10HN-IF: CHIRP High Narrow (130-300 kHz)

MAXIMUM DEPTH Panoptix PS22-TR: 300 ft Down; 300 ft Forward

GT10HN-IF: 800 ft. freshwater

BOTTOM LOCK (SHOWS RETURN FROM THE BOTTOM UP)

WATER TEMPERATURE LOG AND GRAPH

SONAR RECORDING

SONAR HISTORY REWIND
Connections:

NMEA 2000® COMPATIBLE

TRANSDUCER PIN NUMBERS

Panoptix PS22-TR: Network

GT10HN-IF: 8-pin

NMEA 0183 INPUT PORTS 1

NMEA 0183 OUTPUT PORTS 1

WIRELESS CONNECTIVITY Yes
Additional:
Bag size: Large (L)

Included transducers: Panoptix PS22-TR and GT10HN-IF
Panoptix™ LiveScope Ice Fishing Bundle Includes ECHOMAP™ UHD 93sv:

General:

PHYSICAL DIMENSIONS 13.8" × 12.2" × 13.0" (35 × 31 × 33 cm)
DISPLAY SIZE 7.8" x 4.8"; 9" diagonal (19.9 x 11.3 cm; 22.9 cm diagonal)
DISPLAY RESOLUTION 800 x 480 pixels
DISPLAY TYPE WVGA display
WEIGHT 25.1 lb (11.4 kg)
WATER RATING IPX7
POWER CONSUMPTION 6.2 W
ANTENNA Internal or external over NMEA 2000
TRANSMIT POWER 500 W
RECEIVER 5 Hz
GARMIN MARINE NETWORK™ PORTS
1 Panoptix™ port
Maps & Memory:
PRELOADED MAPS LakeVü g3 (inland maps)
ACCEPTS DATA CARDS 1 microSD™ card; 32 GB maximum card size
WAYPOINTS 5,000
TRACK LOG 50,000 points; 50 saved tracks
ROUTES 100
Outdoor Recreation:
TIDE TABLES
Chartplotter Features
GARMIN SONAR COMPATIBL Yes
Sonar Features & Specifications:
FREQUENCIES SUPPORTED 530 - 1,100 kHz
MAXIMUM DEPTH Down and Forward: 200' (61.0 m)
BOTTOM LOCK (SHOWS RETURN FROM THE BOTTOM UP)
WATER TEMPERATURE LOG AND GRAPH
SONAR RECORDING
SONAR HISTORY REWIND
Connections:
NMEA 2000® COMPATIBLE
TRANSDUCER PIN NUMBERS 21-pin
NMEA 0183 INPUT PORTS 1
NMEA 0183 OUTPUT PORTS 1
WIRELESS CONNECTIVITY Yes
Additional:
Bag size: Extra Large (XL)
Included transducer: Panoptix LiveScope System
IN THE BOX
Panoptix™ PS22 Ice Fishing Bundle Includes ECHOMAP™ UHD 73cv 7":
ECHOMAP™ UHD 73cv chartplotter
Panoptix™ PS22-TR transducer
Panoptix ice fishing mount
GT10HN-IF transducer
Tilt/swivel mount
Power cable
Documentation
Portable fishing kit
Bag with handle
Foam float
Transducer adapter cable
Cable grommet
Rechargeable battery
Battery charger
Panoptix™ LiveScope Ice Fishing Bundle Includes ECHOMAP™ UHD 93sv:

ECHOMAP™ UHD 93sv chartplotter
Panoptix™ LiveScope System
Panoptix ice fishing mount
Tilt/swivel mount
Power cable
Documentation
Portable fishing kit
Bag with handle
Rechargeable battery
Battery charger
View full details