Regular price
$1,149.99 USD
Regular price
Sale price
$1,149.99 USD
Unit price
per
Sale
Sold out
Share
---
SHOW THE SEA WHAT YOU'RE MADE OF

Take control of your vessel.
Overview:
COMPREHENSIVE CONNECTIVITY:
Quatix 6 Solar connects with compatible Garmin chart plotters, the GNT™ 10 transceiver, and other devices to stream data to your watch.
AUTOPILOT CONTROL: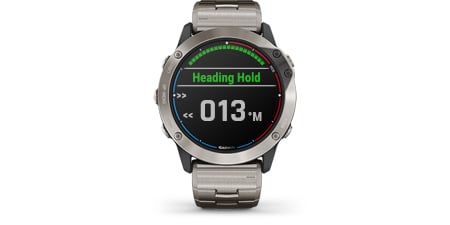 Experience full control of your boat from your watch. Access the autopilot app to change heading, engage pattern steering and follow a GPS route.
FUSION-LINK™ AUDIO SYSTEM: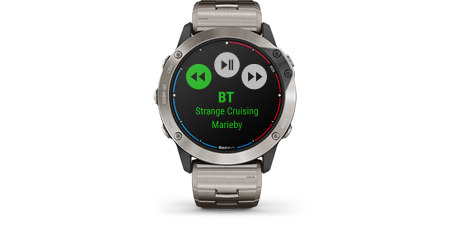 Control your onboard entertainment system from your quatix 6 Solar with the built-in Fusion-Link™ Lite app.
SPORTS APPS:
Quatix 6 Solar includes all activity profiles of the fēnix® 6 multisport GPS watch to track sports on the water and land, including golf, hiking, SUP, kayaking, and more.
SOLAR-CHARGED BATTERY:
Get up to 30 days of battery life in smartwatch mode with an additional 5 days when solar charging3 — and 20 hours in GPS mode.
WRIST-BASED HEART RATE:
The watch constantly samples your heart rate1 to help gauge how hard you work during activities — even underwater. Access more data in our app on your Apple® or Android™ device.
BATTERY LIFE:
Internal, rechargeable lithium battery provides up to 14 days of battery life in smartwatch mode, 24 hours in GPS mode, and up to 60 hours in UltraTrac™ battery saver mode.
ADVANCED SLEEP MONITORING:
Get a full breakdown of your light, deep, and REM sleep stages as well as Pulse Ox3 and respiration data. View it all on a dedicated widget that includes your stress score and other insights.
MUSIC:
Sync playlists from your music streaming service accounts — such as Deezer, Amazon Music, and Spotify® — to your watch for phone-free listening. Quatix 6 Titanium can store up to 2,000 songs.
Specifications:


Titanium with Titanium Band:
BRAND NAME: GARMIN Quatix®
LENS MATERIAL: Power Glass
BEZEL MATERIAL: titanium
CASE MATERIAL: fiber-reinforced polymer with metal rear cover
QUICK FIT WATCH BAND COMPATIBLE: included (26 mm)
STRAP MATERIAL: titanium and silicone included
PHYSICAL SIZE: 51 x 51 x 14.9 mm
Fits wrists with the following circumference:
Silicone band: 127-210 mm
Metal band: 135-225 mm
COLOR DISPLAY: Yes
DISPLAY SIZE: 1.4" (35.56 mm) diameter
DISPLAY RESOLUTION: 280 x 280 pixels
DISPLAY TYPE: sunlight-visible, transflective memory-in-pixel
WEIGHT: 82 g (54 g, case only)
BATTERY LIFE:
Smartwatch: Up to 21 days plus 3 days *
GPS: Up to 60 hours plus 6 hours *
GPS + Music: Up to 15 hours plus 1 hour*
Max Battery GPS Mode: 120 hours plus 28 hours*
Expedition GPS Activity: 46 days plus 10 days*
Battery Saver Watch Mode: 80 days plus 40 days*
WATER RATING: 10 ATM
MEMORY/HISTORY: 32 GB
Gray with Captain Blue Band Non-Solar:

LENS MATERIAL Corning® Gorilla® Glass DX
BEZEL MATERIAL stainless steel
CASE MATERIAL fiber-reinforced polymer with metal rear cover
QUICKFIT™ WATCH BAND COMPATIBLE included (22 mm)
STRAP MATERIAL silicone
PHYSICAL SIZE 47 x 47 x 14.7 mm
Fits wrists with the following circumference:
Silicone band: 125-208 mm
COLOR DISPLAY: Yes
DISPLAY SIZE 1.3" (33.02 mm) diameter
DISPLAY RESOLUTION 260 x 260 pixels
DISPLAY TYPE sunlight-visible, transflective memory-in-pixel (MIP)
WEIGHT 83 g (60 g, case only)
BATTERY LIFE:
Smartwatch mode: Up to 14 days
GPS mode: Up to 36 hours
GPS and music: Up to 10 hours
Max battery GPS mode: 72 hours
Expedition GPS activity: 28 days
Battery saver watch mode: 48 days
WATER RATING 10 ATM
MEMORY/HISTORY 32 GB
Titanium Gray with Titanium Band Non-Solar:
LENS MATERIAL sapphire crystal
BEZEL MATERIAL titanium
CASE MATERIAL fiber-reinforced polymer with metal rear cover
QUICKFIT™ WATCH BAND COMPATIBLE included (22 mm)
STRAP MATERIAL titanium and silicone included
PHYSICAL SIZE 47 x 47 x 14.7 mm
Fits wrists with the following circumference:
Silicone band: 125-208 mm
Metal band: 132-215 mm
COLOR DISPLAY: Yes
DISPLAY SIZE 1.3" (33.02 mm) diameter
DISPLAY RESOLUTION 260 x 260 pixels
DISPLAY TYPE sunlight-visible, transflective memory-in-pixel (MIP)
WEIGHT 72 g (49 g, case only)
BATTERY LIFE:
Smartwatch mode: Up to 14 days
GPS mode: Up to 36 hours
GPS and music: Up to 10 hours
Max battery GPS mode: 72 hours
Expedition GPS activity: 28 days
Battery saver watch mode: 48 days
WATER RATING 10 ATM
MEMORY/HISTORY 32 GB
In The Box:
Titanium with Titanium Band
Quatix 6X Solar
Titanium band
Cirrus blue silicone band
Charging cable
Documentation
Gray with Captain Blue Band
Quatix 6
Captain blue silicone band
Charging cable
Documentation
Titanium Gray with Titanium Band
Quatix 6 Titanium
Titanium band
Cirrus blue silicone band
Charging cable
Documentation
Package Included:
View full details